Maybe it's out of your budget. Maybe you want more from an audiobook app. Or maybe you simply don't want to give your money to Amazon (we understand!). Whatever your reason, here are the 10 best Audible alternatives, with Libro.fm leading the pack.
Audible Alternatives- Same Price
1. Libro.fm- Best for supporting local bookstores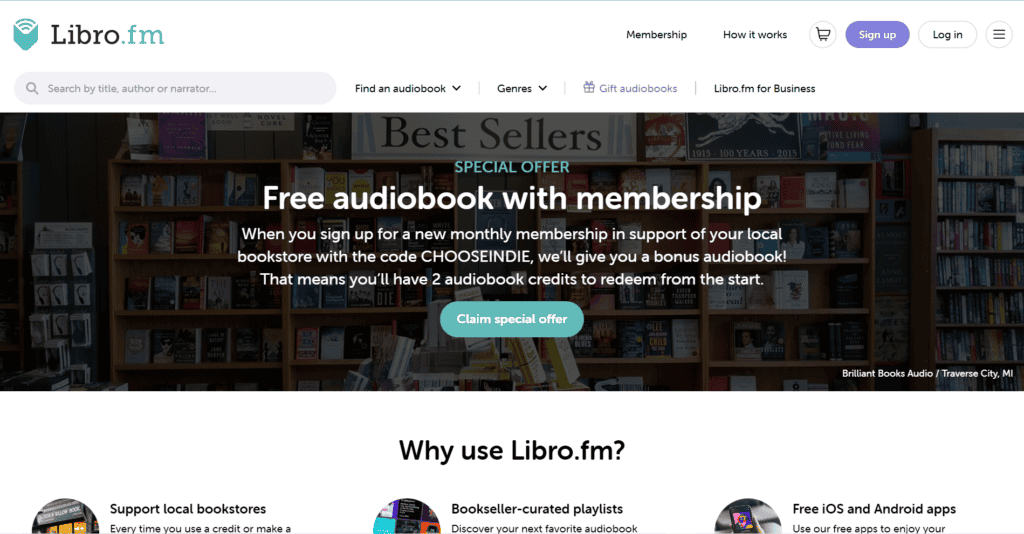 The Details:
$14.99 monthly subscription that includes 1 credit
30% off additional audiobooks
Pros:
Supports local bookstores and economy
Easy returns
Expert picks from booksellers
Cons:
Less titles than other competitors
No free trial
Libro.fm is an audiobook provider that gives back! They partner with local bookstores and split the profits with them every time you use a credit or make a purchase. The best thing? You can choose which library to support! In addition, they also offer audiobook playlists curated by expert booksellers, influencers and the Libro.fm team. You can choose whether to sign up for the $14.99 monthly subscription package (which includes 1 credit and 30% off individual purchases), or pick and choose your favorite titles, no strings attached.
Plus, all their audiobooks are DRM-free, which means you can play them on any device and app, though the Libro.fm app is recommended for the best experience; it's free on Android and iOS!
2. Barnes & Noble Audiobooks- Best comparable library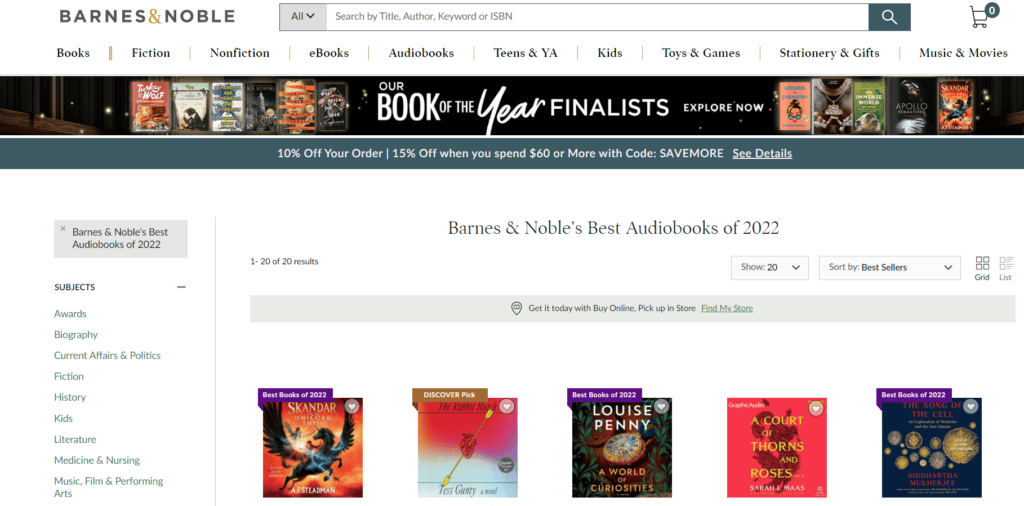 The Details:
$14.99 monthly subscription, includes 1 credit per month OR
No subscription, pay per audiobook
Listen on the Nook app or browser
Pros:
Cons:
More expensive than other competitors
Book-giant Barnes & Noble also has its own audiobook service. For $14.99 a month, you'll receive 1 credit that you can redeem for one audiobook, and receive a discount if you wish to purchase more. By signing up initially, you get a free title of your choosing from over 300,00! Not up for a subscription? No worries! You can cancel anytime, or purchase audiobooks individually through their browser or app.
You can listen to your audiobooks on the free Nook app.
3. Blinkist- Best for busy people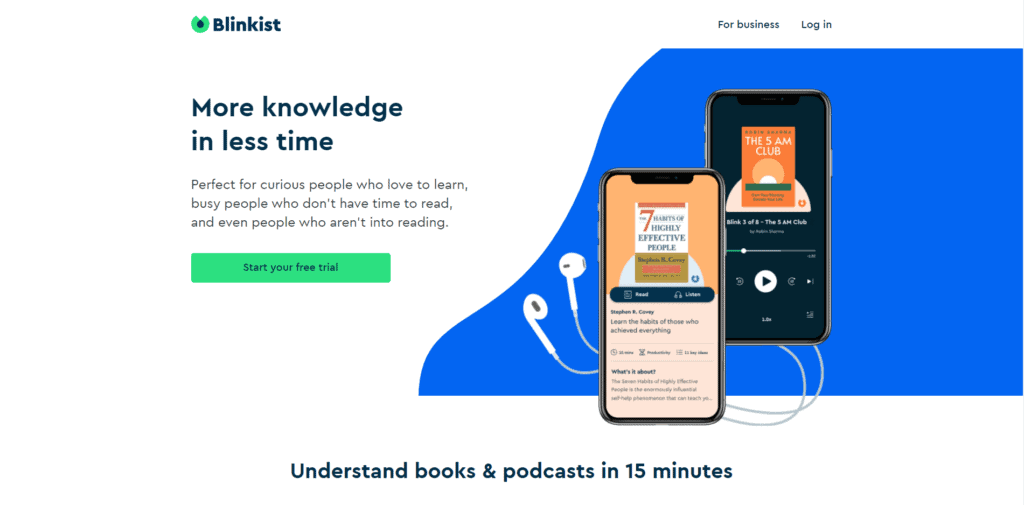 The Details:
15-minute summaries of 5,000+ nonfiction titles.
$14.99 monthly subscriptions OR $67.49 yearly ($5.63 monthly value)
Pros:
Supports local bookstores and economy
Easy returns
Expert picks from booksellers
Cons:
Less titles than other competitors
Blinkist's slogan is "More Knowledge in Less Time" and that's exactly what you'll get with their 15-minute nonfiction summaries, that you can either listen to or read. You'll find contemporary classics like How to Win Friends and Influence People and Atomic Habits, in bite-sized form! You'll also get expertly curated personalized recommendations for your next listen.
Fan of podcasts too? Blinkist's got you covered! With their newest feature, Shortcasts, you can now get key insights from podcasts in a fraction of the time. In short, Blinkist is the perfect option for busy, on-the-go people, people who want to absorb knowledge quickly and even for people who don't like to read!
4. Audiobooks.com- Best free trial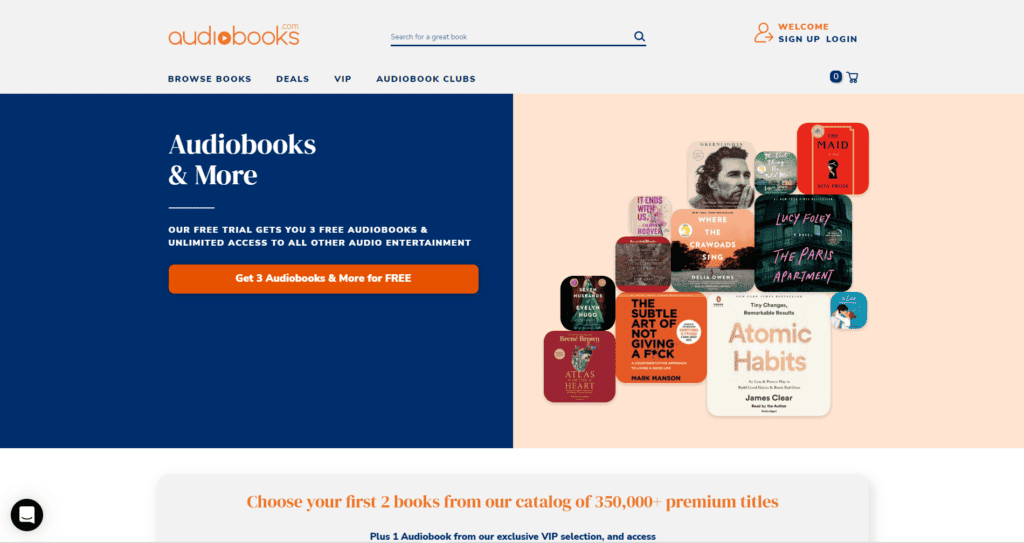 The Details:
3 free audiobooks after signing up for free trial
More than 350,000 audiobooks
$14.95 after free trial
Pros:
Monthly selection of free titles
Sales events
Lots of freebies!
Cons:
Audiobooks.com has the best free trial among all other services. They offer 30-days with 3 free books (2 from their normal catalog and 1 from their VIP section). How it works after the free trial is, for $14.95, you'll receive 1 credit. You can spend this credit either on one of 350,000 titles to choose from, or cash it in for access to one of 8 audiobook Clubs.
These clubs are genre-based. So for example, you might join the Romance Audiobook Club, or the Sci-Fi & Fantasy Club, and you'll be able to listen to all audiobooks included there unlimitedly for 30 days. Once the 30 days are up, you can choose to stay in the same Club, change Clubs or use your credit for one of the other 350,000 audiobooks available.
One cool thing about Audiobooks.com is their VIP Rewards program. As a reward for being a member, you'll get unlimited access to a selection of books that you can download for free! This selection refreshes the 1st of every month; however, books you download stay available in your app's library, even after the books change. And if that wasn't all, you'll also get unlimited access to their additional audio content like News, Magazines, Summaries and Sleep & Meditation.
If you like podcasts, they also have a selection of over 100 million podcast episodes for you to listen to as part of your subscription.
Audible Alternatives- Cheaper Price
5. Scribd- Cheapest Option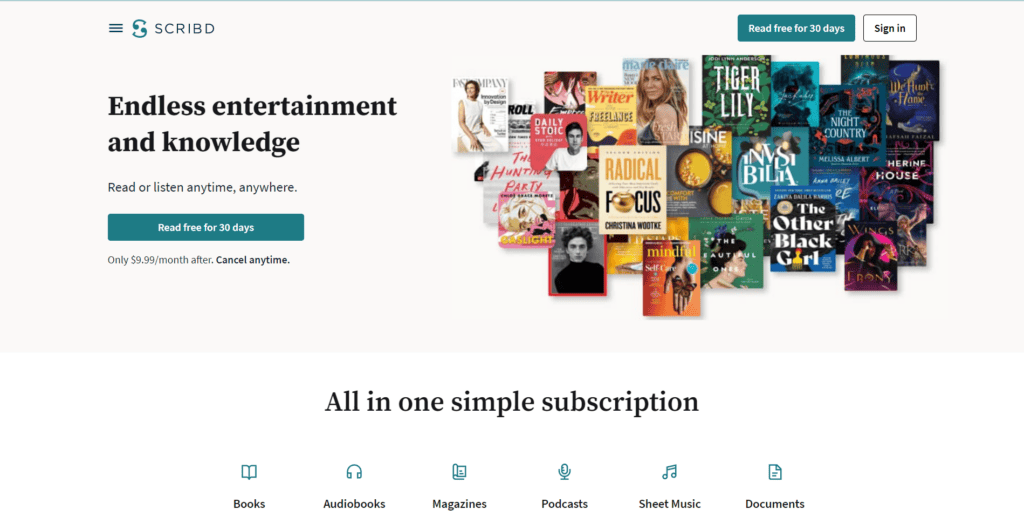 The Details:
$9.99 a month
30-day free trial
Can read and listen
Pros:
Ability to start as many books as you want
Includes magazines, podcasts, and books in addition to audiobooks (even sheet music!)
Snapshot section to read/listen to summaries
Cons:
You don't get to keep the books you read.
Described by Forbes as "the Netflix for books," Scribd is a cheaper alternative to Audible. They have hundreds of thousands of not only audiobooks, but also ebooks, magazines, podcasts, documents and sheet music, and your subscription includes all of them! Like other services, Scribd has book summaries you can listen to called Snapshots. One downside of this service is that you don't get to keep the books you listen to or read. However, for many users this isn't a problem since it would work similar to a streaming service where you don't own the content but are able to access it any time through the app.
6. Kobo- Best for reading on multiple devices
The Details:
$12.99 monthly subscription that includes 1 credit
Can buy additional credits in packs of three
Pros:
Keep your books even if you cancel
Cons:
Less titles than other competitors
Kobo is mostly known for its eReaders, but they also have an audiobooks subscription service! The cool thing? with their Kobo Sage and Kobo Libra 2 eReaders you can also listen to audiobooks! So you can listen on multiple devices comfortably.
Similar to other providers, Kobo gives you one free audiobook when signing up for their 30-day free trial, and every month you get 1 credit to spend on any of the thousands of titles available. You can also buy additional audiobooks at list price. The best thing however, is that even if you cancel you'll get to keep every audiobook you purchased!
7. Downpour- Best for renting audiobooks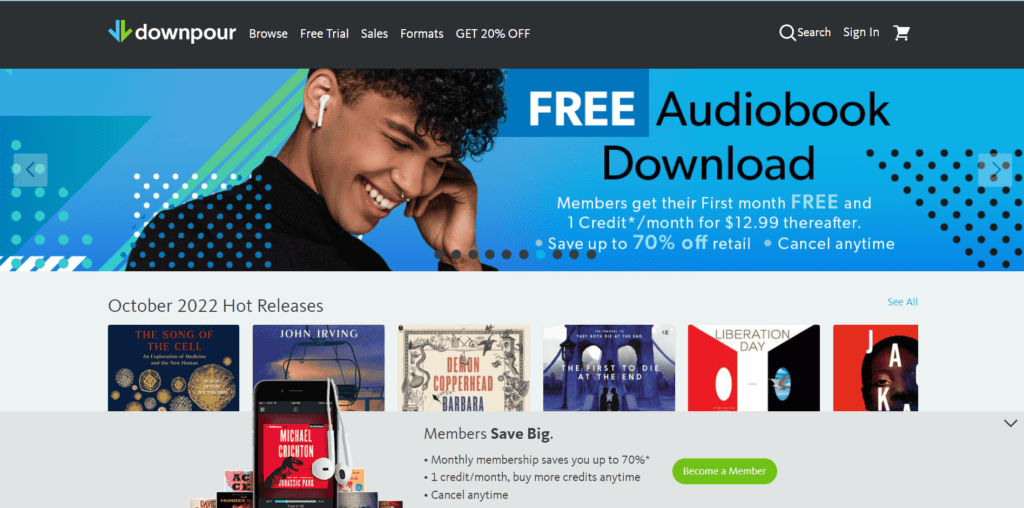 The Details:
$12.99 monthly subscription, includes 1 credit per month
Extra credits $12.99
Listen on the Downpour app
Pros:
Free app
Keep your books after purchase
Cons:
Smaller library than other competitors
Downpour is another good alternative to Audible, especially since their monthly subscription can get you up to 70% off their retail priced books. Their 30-day free trial includes one free audiobook, and afterwards get one credit a month for $12.99. You can choose from their catalog of over 80,000 titles in one of various formats: digital downloads, digital rentals and physical CDs that you can have delivered.
Their digital rentals feature allows you to listen to an audiobook in 30-60 days, with the ability to purchase an extension if needed. By renting instead of buying your audiobooks you can end up saving a lot of money.
Non-Subscription Alternatives
8. Chirp Books- Best for individual purchases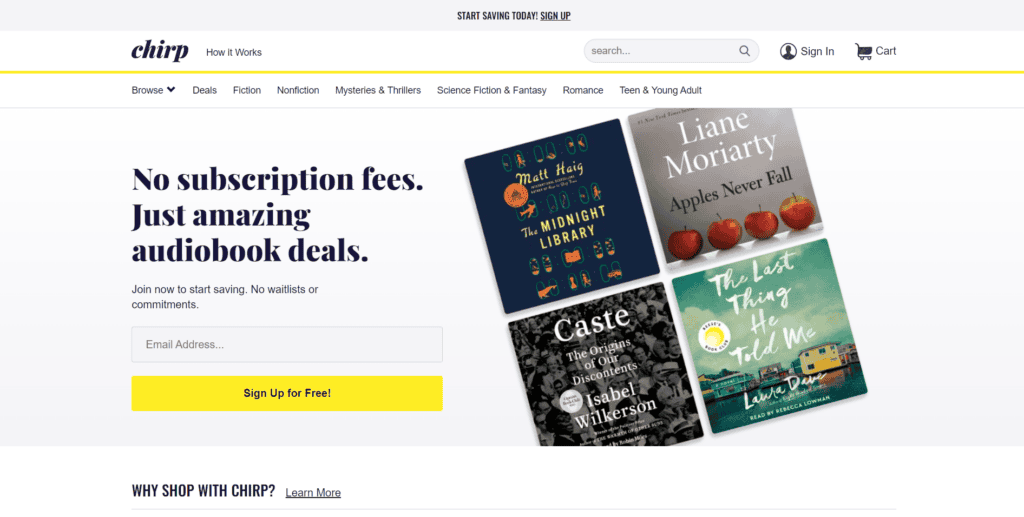 The Details:
Thousands of audiobooks at discount prices
Audiobooks uploaded by authors or publishers themselves
Pros:
Free app
No subscription!
Lots of deals per month
Cons:
Not all books have discounts
Discounts are for limited time
Chirp Books is a great option if you're looking to break free from our subscription-based world. Sign up for free and you can enjoy limited daily deals of up to 95% on audiobooks. As other subscription-based services you'll get curated suggestions straight to your inbox. Chirp is intuitive, so you can switch between devices (maybe from your phone to your computer) and keep listening where you left off. For the true deal-lovers, Chirp has a section where all titles are $1.99 and under! Plus, they also have Book Clubs you can follow for that genre's latest picks and exclusive content, and book lists you can browse to find your next listening experience.
9. Apple Audiobooks- Best for iPhone users
The Details:
Individually priced audiobooks
Includes eBooks to read as well
Pros:
No subscription
Can connect to all your Apple devices for listening on-the-go.
Cons:
Books can sometimes be more expensive
Only available for Apple users
Discounts are for limited time
Apple Books is the tech giant's alternative for listening to audiobooks. While their books can be a bit more expensive than other, more budget-friendly options, Apple lovers have the convenience of downloading and listening on any of the brand's devices. Apple Books is not subscription-based, so you can just purchase titles as you wish! A cool thing about Apple Books is that some audiobooks come with a complementary PDF called a digital booklet. So you can read along as you listen!
10. Google Audiobooks- Best subscription-free service

The Details:
Individually priced audiobooks ranging from $1.99 to $40
Listen with Google Play Books app
Pros:
No subscription
Book is yours forever after purchase
Can listen through app or browser
Cons:
Books can sometimes be more expensive
Almost no free content
Google Play Books & Audiobooks is the counterpart to Apple's audiobook service. You can purchase audiobooks without a subscription, with frequent deals available. A cool thing about this option is that you can purchase any written ebook and Google will read it out loud using automated voices, so any book can be an audiobook! (Don't worry, users say the voice options are pretty natural!).
In all, we recommend firstly Libro.fm if it's within your budget since not only you'll be helping to give back to the library community, you'll also get to choose exactly which library to help out! If you prefer a service without a subscription, Chirp Books is the way to go if you want to catch hot daily deals. Scribd can also be a great cheaper alternative to Audible, with the downside that you don't get to keep the books you listen to (a lot of people don't mind this though!).
Whichever service you choose, you'll find some great quality audiobooks for sure!
abc affiliate 😉