Duolingo is perhaps the most-known free language-learning app out there. With their intuitive interface (which just got a revamp!), endearing animations, and, let's admit it, dopamine-producing sounds and visuals, it's no wonder. 
They claim on their homepage that you'll love learning with them because they basically made learning a language into a game. And, having personally tested it out, the app stands up to the claim.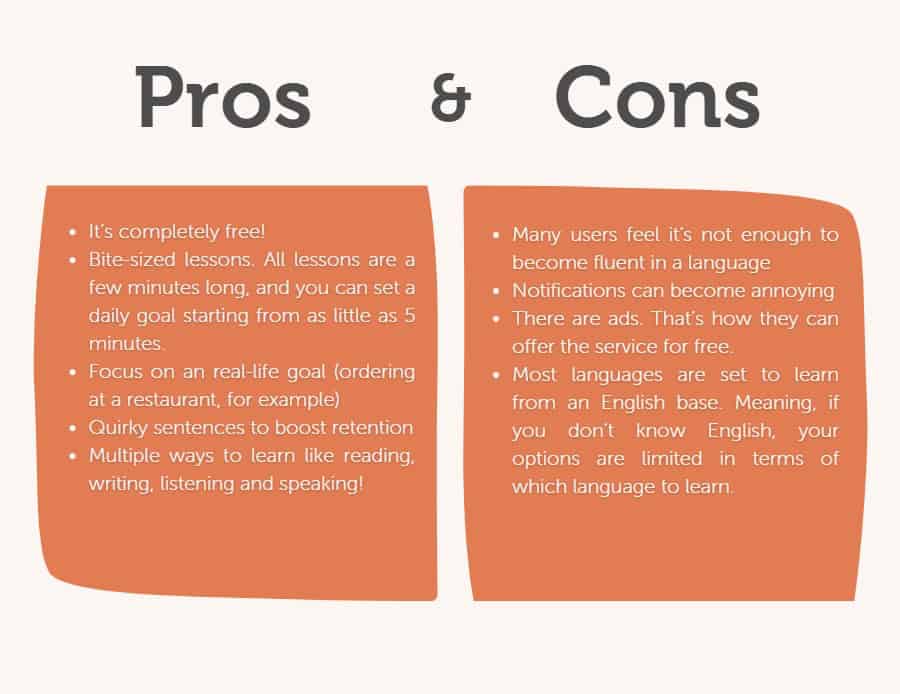 In this Duolingo review we'll dive deep into the belly of the beast (or owl, in this case), and let you know if the app is worthy of your time. 
(Spoiler alert: it is.)
Duolingo is great if you're looking to learn the basics of a language. Not so great if you're looking to become fluent, according to Reddit. However, if all you want is being able to order at a restaurant, or learn enough to get you through a vacation in a foreign country, Duolingo does the job. If you want a more in-depth reading experience, you could use Duolingo as a supplement to additional learning materials. In short, everyone who's looking to learn a new language can start with Duolingo since it's super user-friendly and really gives a good base to start with. 
The answer is yes! Duolingo believes in equality for all learners so they offer their products for free. However, they do have Duolingo Super, in which you can decide to pay a fee for an adless experience with a few other perks.
Learn the Basics of Over 35 Languages
Duolingo offers 39 different languages to learn from, most of them available from an english-speaking standpoint. (For the Trekkies out there, yes Klingon is one of those languages). You can start learning for just 5 minutes a day. 
The Lessons Are Created by Research-Backed Teaching Methods
All these come together to form what they call "The Duolingo Method." These are 5 steps that make up their unique learning experience:
Learn by Doing
Learn in a Personalized Way
Focus on What Matters
Feel the Delight
Stay Motivated
This method is what makes Duolingo into a game, but also into a useful tool for learning a language. 
How Do I Learn with Duolingo?
Duolingo has a specific way of guiding users through its courses to ensure the maximum amount of retention of information. You can read more about their path method, released on November 1st 2022, here.
Can You Become Fluent with Duolingo?
Duolingo, as expected, tries to talk their way out of this question by focusing on semantics. Their FAQ page says that instead of fluency, one must talk of proficiency. This is to say that the level of proficiency depends on if you want to spend a weekend in France, or write to the US Supreme Court. They do, however, specify that the app's goal is to get the user to a "B2" level. What this means, in short, is that there are 6 levels to learning a language, and Duolingo can get you to the fourth level (which they say it's enough to get a job in the new language). 
In essence, it depends on what your goals are, but if those goals are finding a job in that language or anything "less", then Duolingo should work just fine. 
Duolingo has apps for Android and iOS and can also be used through your web browser (mobile or desktop). 
Fun & Learning: The Research
Duolingo's site has its own section dedicated to publicizing their research on language learning. And other, non-Duolingo related, research has proven the company's main thesis: that learning comes easier when you're having fun. This 2014 paper confirms this, by stating "A different approach to the design of adult learning experiences and methods that incorporates greater use of fun may mean that more adults are encouraged and motivated to participate in learning with enthusiasm for the journey and optimism for the outcomes."
In layman's terms, Duolingo is the ultimate tool for making learning a language fun, and therefore, easier and less daunting to learn! 
Is Duolingo Useful (and Safe) for Children?
Regarding children, the American English division of the US Department of State states on their website that "[h]aving fun while learning also helps students retain information better because the process is enjoyable and memorable." With Duolingo's sister app,  DuolingoABC, kids can learn to read by using the same gamification process as the language-learning version. The site claims a 28% increase in kids' literacy scores after using the app for 9 weeks! 
But what about the regular language-learning app? After scouring the terms of service and privacy policy, we found that there is no minimum age requirement for participating in Duolingo. To test this, we downloaded the app and put "10" as the age, and it allowed us to use the app as normal. 
What they do, then, to protect children's privacy while using the app is they compare the user's age with the "local standard of child online consent depending on the country they registered in. We refer to users under this age as "child users". Duolingo then imparts certain additional protections to that user. You can read more about this in their privacy policy. 
So the short answer is yes, it's useful and safe for children! 
Can Duolingo Certify My English?
Yes! The Duolingo English Test is accepted by over 4000 institutions including Yale, Columbia, Johns Hopkins and more! The best part? You can practice for free before taking the test! 
What is Duolingo for Schools?
This is a free version of Duolingo meant for teachers who want to incorporate Duolingo into their lessons. It allows cool features like assignments (with AI!), and seeing your students' progress. And if, by chance, a student already has a Duolingo account, you can include it seamlessly into your School account. 
In general, Reddit is split regarding Duolingo: some swear by it and others don't think it's useful beyond just the basics. Here's a few of their comments: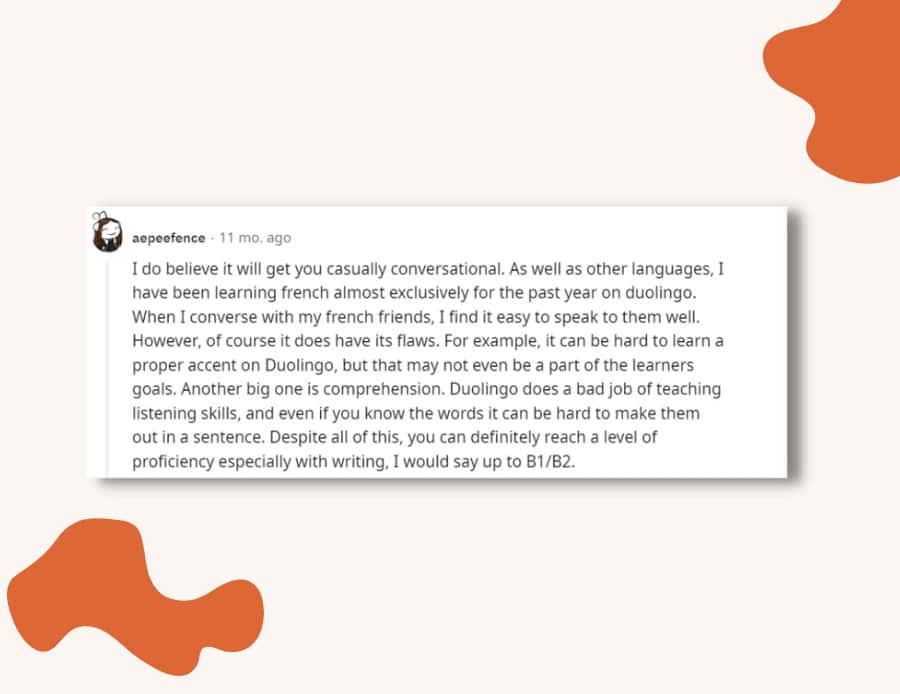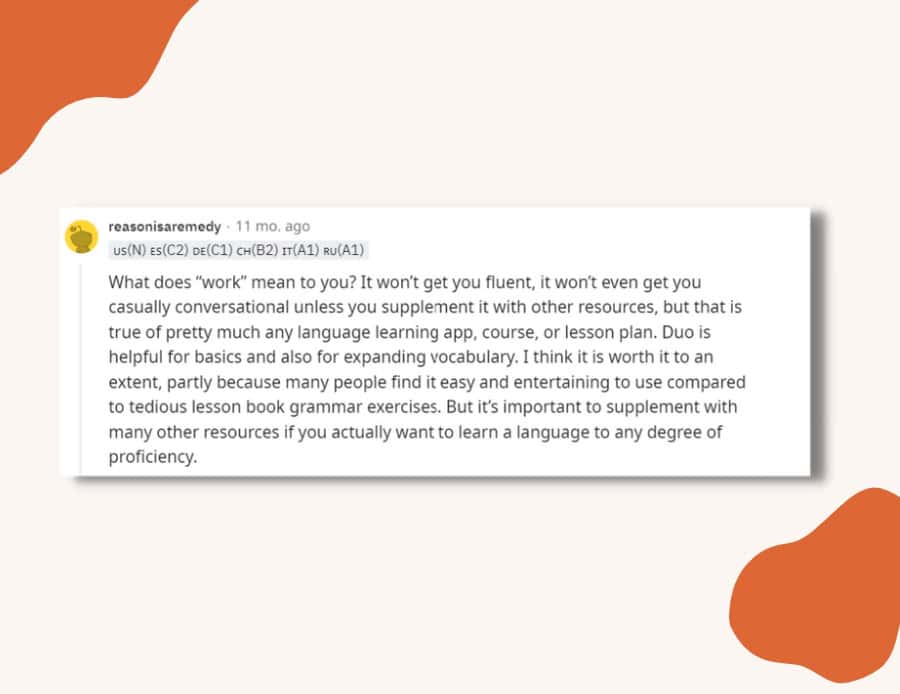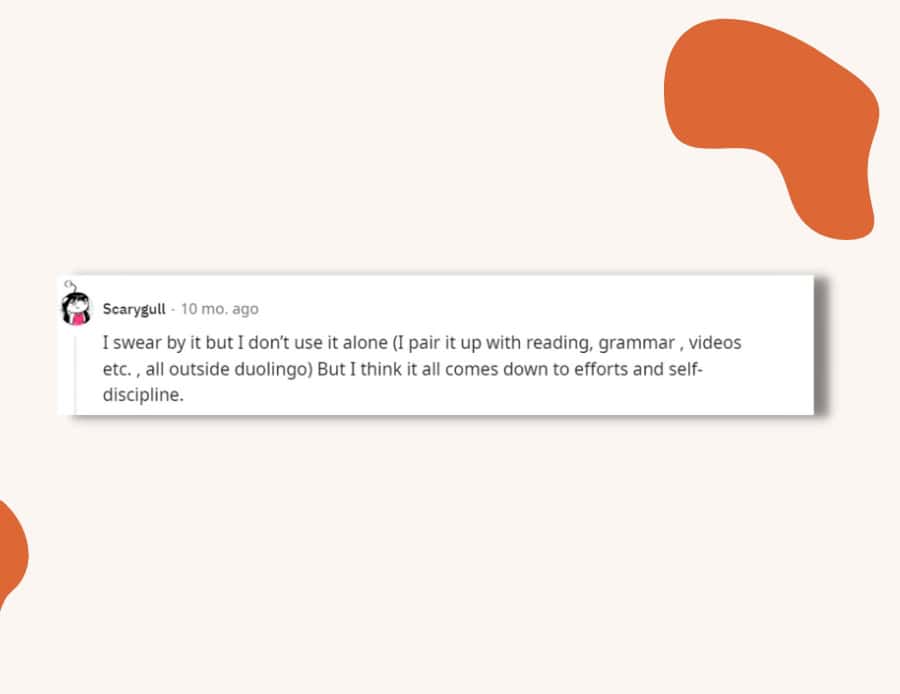 Duolingo is a great app for dipping your toe into a new language. The app claims they can get users to a level B2, or enough to get a job in that language (and according to this user, it worked). However, the general consensus seems to be that Duolingo will teach you the basics of reading, writing and listening, but it's not that useful for learning to speak it (though they do have speaking exercises), and suggest using supplementary materials to really get the hang of the language. 
Despite this, Duolingo's approach to teaching, their revamped user interface, and the just plain fun it is to play, make Duolingo the best free app for language learning.
Try it out for yourself!