With the number of people who listen to audiobooks continually rising (1), it's no surprise that there are many services out there (free and paid) to choose from. Which is why we did the hard work for you and selected and reviewed the 12 best audiobook services, with Audible coming in at number one.
Best Audiobook Services
1. Audible- Best Overall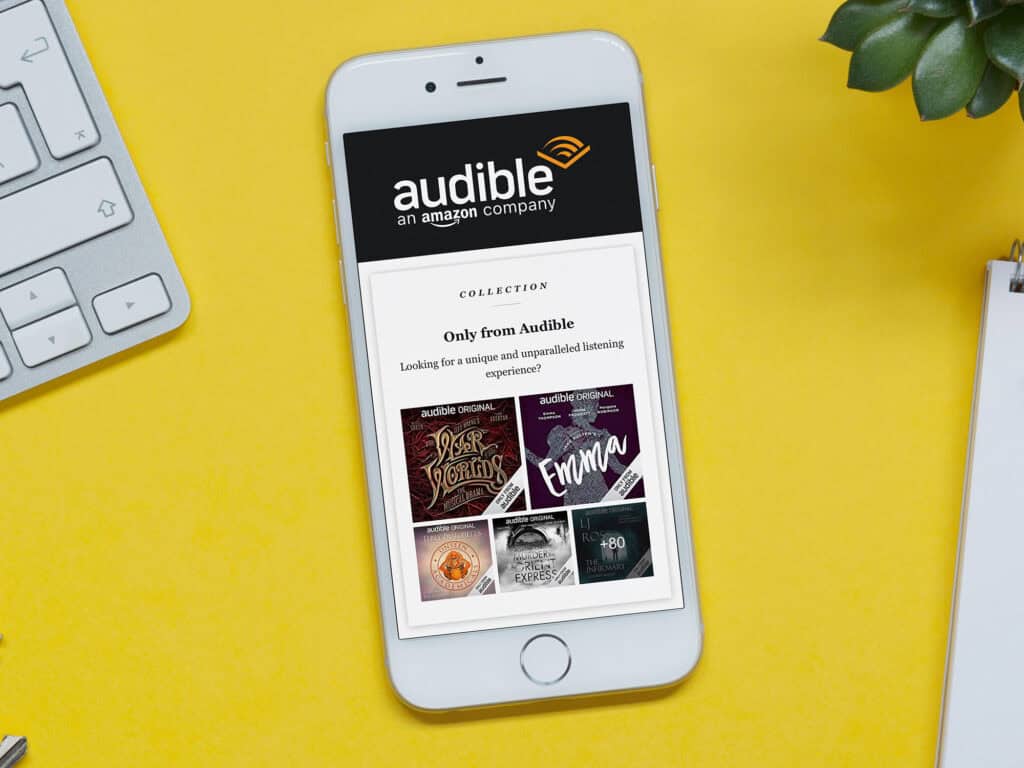 The Details:
$14.95 a month
30-day free trial
2 credits at start of trial
1 credit a month
Selection of Plus Catalog audiobooks, no credits needed
Pros:
Unlimited access to Plus Catalog, no credits needed
Great selection of bestsellers and new titles
"Streaming service" for audiobooks
Daily Deals
Over 200,000 titles
Cons:
Only 1 credit per month, but can purchase additional credits as needed.
2. Scribd- Cheapest Option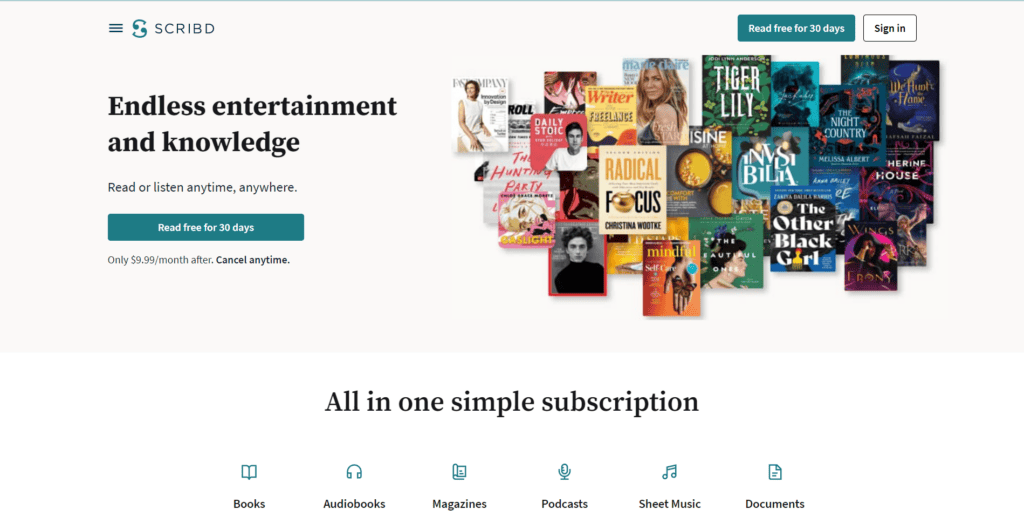 The Details:
$9.99 a month
30-day free trial
Can read and listen
Includes magazines, podcasts, in addition to books and audiobooks.
Pros:
Ability to start as many books as you want
Includes magazines, podcasts, and books in addition to audiobooks (even sheet music!)
Snapshot section to read summaries
Cons:
You don't get to keep the books you read.
3. Librivox- Best for Reading the Classics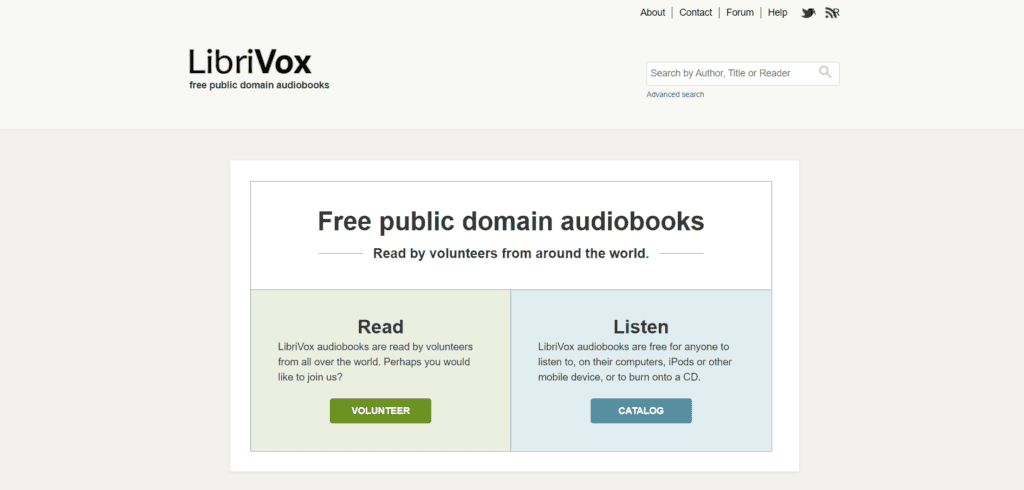 The Details:
Pros:
Free!
Ability to download audiobooks
Has an app
Cons:
Limited to books in the public domain
Since the recordings are done by volunteers, quality may not be the best. Be sure to check reviews!
4. Google Audiobooks- Best subscription-free service

The Details:
Individually priced audiobooks ranging from $1.99 to $40
Listen with Google Play Books app
Pros:
No subscription
Book is yours forever after purchase
Can listen through app or browser
Cons:
Books can sometimes be more expensive
Almost no free content
Since the recordings are done by volunteers, quality may not be the best. Be sure to check reviews!
5. Apple Audiobooks- Best for iPhone users
The Details:
Individually priced audiobooks
Includes eBooks to read as well
Pros:
No subscription
Can connect to all your Apple devices for listening on-the-go.
Cons:
Books can sometimes be more expensive
Only available for Apple users
6. Libro.fm- Best for supporting local bookstores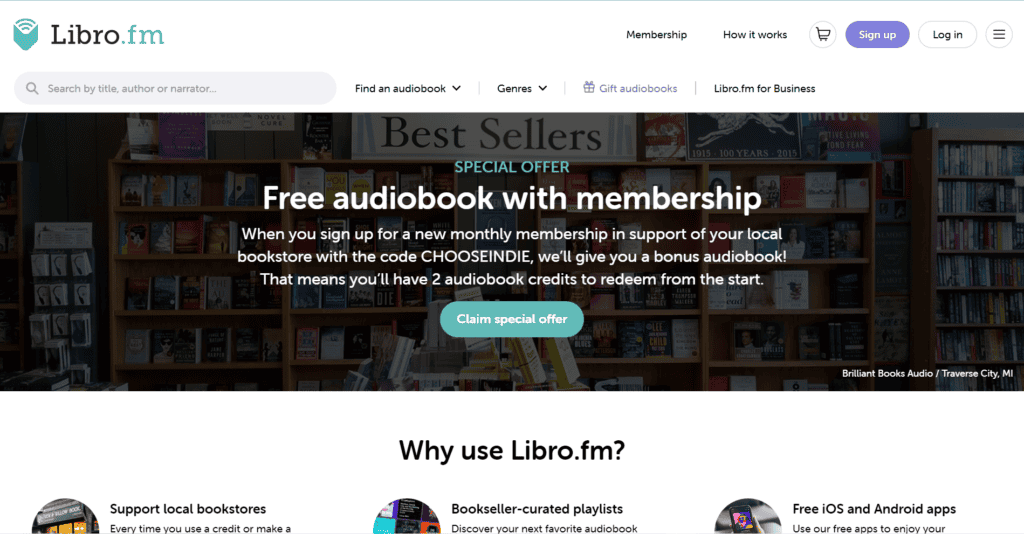 The Details:
$14.99 monthly subscription that includes 1 credit
30% off additional audiobooks
Pros:
Supports local bookstores and economy
Easy returns
Expert picks from booksellers
Cons:
Less titles than other competitors
No free trial
7. Kobo- Best for reading on multiple devices
The Details:
$12.99 monthly subscription that includes 1 credit
Can buy additional credits in packs of three
Pros:
Keep your books even if you cancel
Get 3 credits when signing up
Cons:
Less titles than other competitors
8. Blinkist- Best for busy people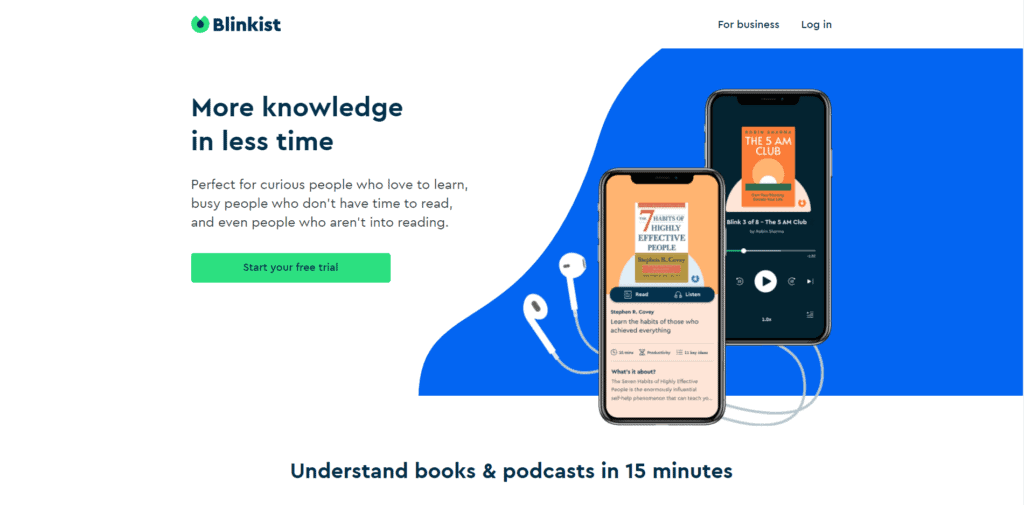 The Details:
15-minute summaries of 5,000+ nonfiction titles.
$14.99 monthly subscriptions OR $67.49 yearly ($5.63 monthly value)
Pros:
Thousands of summaries
Great for quick learning
Cons:
Only non-fiction book summaries
9. Chirp Books- Best for individual purchases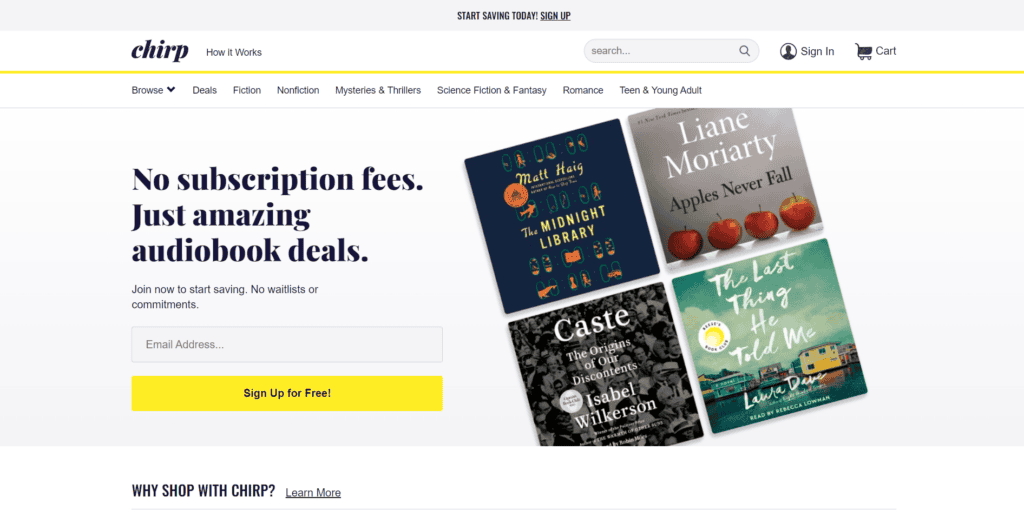 The Details:
Thousands of audiobooks at discount prices
Audiobooks uploaded by authors or publishers themselves
Pros:
Free app
No subscription
Lots of deals per month
Cons:
Not all books have discounts
Discounts are for limited time
10. Barnes & Noble Audiobooks- Newest service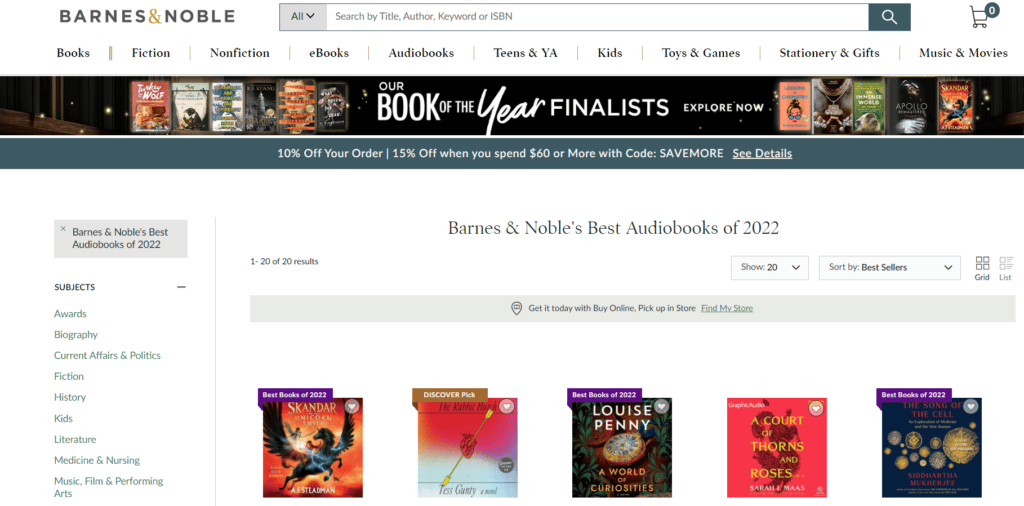 The Details:
$14.99 monthly subscription, includes 1 credit per month OR
No subscription, pay per audiobook
Listen on the Nook app or browser
Pros:
Cons:
More expensive than other competitors
Smaller selection
11. Downpour- Best for renting audiobooks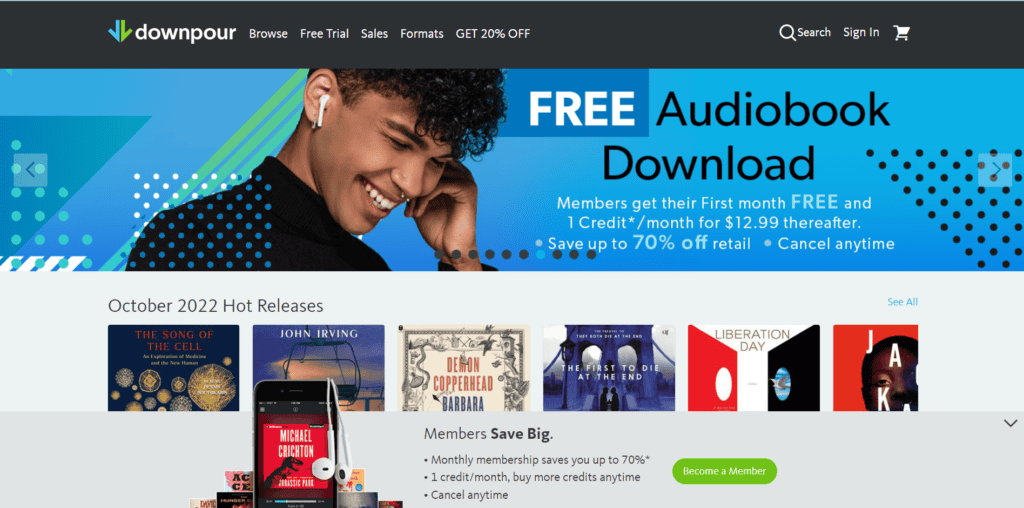 The Details:
$12.99 monthly subscription, includes 1 credit per month
Extra credits $12.99
Listen on the Downpour app
Pros:
Free app
Keep your books after purchase
Cons:
No free trial
Smaller selection
12. Audiobooks.com- Best free trial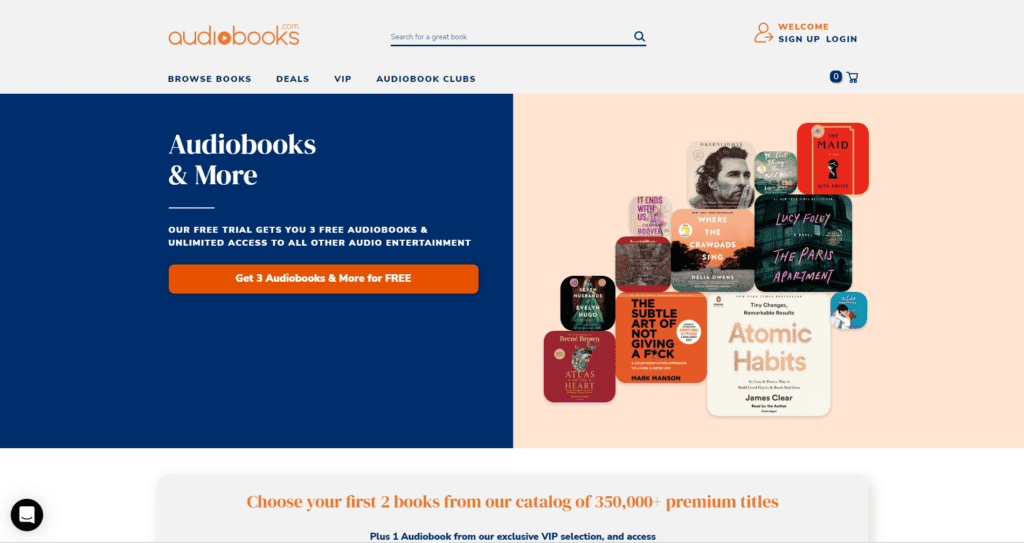 The Details:
3 free audiobooks after signing up for free trial
More than 350,000 audiobooks
$14.95 after free trial
Pros:
Monthly selection of free titles
Sales events
Cons:
13. Graphic Audio- Best for an immersive experience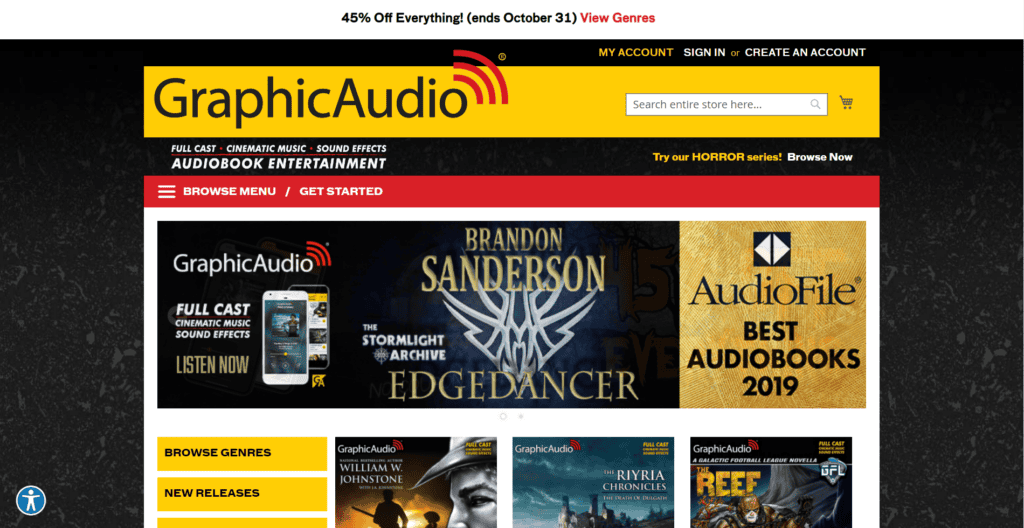 The Details:
"Movie in your mind"
Different casts of voices narrate every book for a cinematic audio experience
Pros:
Free app
Keep your books after purchase
A fun way to experience audiobooks
Cons:
Not for everyone
Some users find some of the background music annoying
Smaller selection
How to choose the best audiobook service:
Choosing the best audiobook service comes down to personal preference. In short, there's something for everyone. Just consider how many audiobooks you listen to a month and see if you'll need a subscription or are better off buying as you need them.
What to look for when choosing an audiobook service?
It all depends on preference, but in general be on the lookout for:
Whether you can keep your audiobooks or not after purchase
A straightforward, easy to understand process
Variety of title selection
Clear user policies
Whether you need to download an additional app
Why should I choose a paid subscription service?
In one word: quality. The quality of some of the free services can't be guaranteed, especially the ones that use volunteer narrators that don't necessarily have the recording tools of more professional services.
What's the best way to listen to audiobooks?
The beauty of audiobooks is that you can listen to them while doing practically anything, like this Reddit user who says they even listen to them while working! Admittedly, it can take a while for some people to adapt to not letting the audiobook fade into the background and getting distracted, but once you do you'll join the millions (2) of people who listen to audiobooks each year, in every possible way you can think of!
What are the benefits of listening to audiobooks?
According to the Audio Publisher's Association, there are many benefits to spoken-word literature, like:
Helps improve your literacy skills, which in turn improve your reading skills.
Develop critical thinking and active listening skills
Can enjoy while doing other activities
Increase your vocabulary
This in addition to finally being able to conquer that pile of books that's been waiting for you to read them! Who knew you just had to listen to them?
Where to find free audiobooks?
While we love the unmatched quality and user experience of paid subscriptions, there are some great free alternatives, like LibriVox and their extensive library of public domain works.
And remember, most paid subscriptions, like Audible and Barnes & Noble, offer a free book when joining their free trial so they're also worth checking out!
Why is audio content booming?
In recent years, podcasts, audiobooks and other spoken-word media have taken the world by storm, with a whopping 45% of Americans (3) subscribed to an audio service. The reasons for this heightened interest in audio content may include:
Increased accessibility of audio publishing and broadcasting
Something called the audio flywheel, in which advancement in one area, like hardware and software improvements, impulses the advancement of another area, like more creators making more content, which in turn makes more people listen to them. This makes advertisers want to invest in this content, which allows for further technological improvements and the cycle continues.
Advancements in text-to-speech software
More ownership of audio-enabled hardware, like wireless earbuds, sophisticated headphones and even smart speakers and improved bluetooth connectivity in vehicles.
Changes in media habits, like limiting the amount of screen time, has made people want to explore consuming their content through audio.
Simply, there are people who prefer listening to reading!
Are audiobooks for me?
If you're an avid reader (or wish to be!) but find that you just don't have time to sit down with a physical book, or when you do, just can't manage to read more than a paragraph without getting distracted, then audiobooks might be your perfect solution. Some services (like Graphic Audio) even make the book become a movie in your head with sound effects and different voice actors for each character. Users say that these elements really help them to immerse themselves in the story.
In the end, the best way of knowing if this medium is for you is to try it for yourself!
Can I cancel anytime?
Yes. All the subscription-based services mentioned in this article allow you to cancel at any time.
What's going on with Scribd?
While this is a cheap alternative to Audible or other paid audiobook services, we should mention that there has been some controversy surrounding Scribd and their cancellation policies. Apparently, some users are claiming they're being charged the monthly amount even after canceling their subscriptions. While we haven't experienced this issue firsthand, it's always best to make an informed decision.
Our preferred audiobook service is Audible.
We feel that with Audible you get the best bang for your buck. Not only do you get 2 credits after signing up for the free trial, you also get unlimited access to their Plus catalog and you get to keep every book you purchase. If you'd like an alternative to Amazon (we get it), there's the recently-launched Barnes & Noble audiobook service which is very similar to Audible, except with a smaller library. Chirp Books is a great alternative for a subscription-free service, where you can find daily deals and discounts on hundreds of audiobooks.
In the end, Audible's great offering (which includes exclusive content!), user-friendly interface and the ability to keep your books even if you cancel, makes this the all-around winner for us.