Canadians love some poker action, with household names like Daniel Negreanu and Timothy Adams tearing it in the world's biggest poker tournaments.
Many of these tournaments are now held online at the best poker sites in Canada – and we're here to point you in the right direction.
What is the best Canadian poker site?
Keep reading to find out which poker sites have the most traffic, loosest games, and wildest action at their cash tables.
After evaluating their daily player traffic, tournament value, cash game action, and overall poker software, we've made our own list of the top 5 Canadian poker rooms. Bodog came out on top with its anonymous tables that are perfect for newbies and a great welcome bonus.
It's most certainly not the only one – so let's dive in to learn more about the rest.
1. Bodog – Best Poker Site in Canada Overall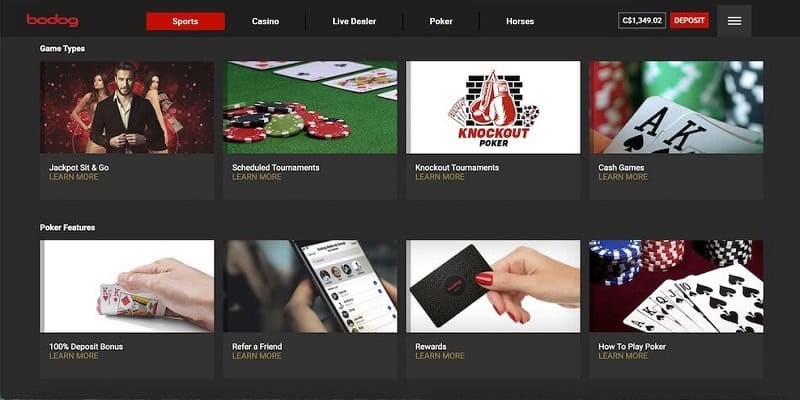 Pros
Cash games focused on fast-paced action
Regular traffic for games at all limits
Weekly $200k guarantee MTT
Jackpot SNGs can have massive payouts
Can play on mobile without downloading software
Cons
May be overwhelming for old-school players
Lack of reload bonuses
Bodog has been the leader in the Canadian online poker industry for almost 30 years, and they show no signs of slowing down anytime soon. With thousands of players online at all hours of the day, you can show up and find yourself in a great game whenever the mood strikes you.
Online Poker Games & Tournaments –
5/5
If you're in a rush to jump into some action, then Bodog knows exactly how to accommodate you.
Most of the site's features are designed to get you in a game as soon as possible and then to ensure that you see as many hands as you can handle. Nowhere is this more evident than in Bodog's ring game selection, which is divided into regular cash games and Zone Poker games.
For the regular ring games, you'll input your desired game, stakes, and table size, and then the software will immediately sit you at a table. It's certainly fast, but you lose the ability to cherry-pick good tables.
Zone Poker is a bit different. In this mode, you'll immediately be seated and dealt a hand. Like it? You can play it. Got dealt trash? You can fold — and then you'll be whisked away to a fresh table with a brand-new hand.
It's paradise for action junkies, but it may be a bit overwhelming for traditional players, especially as it makes it hard to develop reads on the competition.
You'll find games going at all times of day at just about any limit, though, which is a rarity in today's poker scene.
If tournaments are more your bag, Bodog's offerings are among the best in the business. Their SNGs run regularly, so you won't be stuck in a lobby by yourself waiting for hours on end to get a game going. They also have jackpot SNGs that can have massive payouts — up to $72,000.
There are also a ton of regular MTTs, including a weekly Sunday $200k guarantee. You'll also find big events like the Super Millions Poker Open, which boasts over 150 events and $8 million in guaranteed prize money.
Online Poker Bonuses –
4.8/5
When you open an account here, you'll be eligible for a 100% deposit match up to $1,000. That money gets released in $5 increments every time you amass 150 reward points, and you have 30 days to earn it all.
It's a great bonus, to be sure. However, there's not much in reward money after that, as the site doesn't offer many reload bonuses for existing players.
Banking Options & Payout Speed –
4.9/5
Bodog accepts just about every major Canadian payment option, including credit cards (Visa, MasterCard, and AMEX), bank transfers, and crypto (Bitcoin, Ethereum, Litecoin, and Bitcoin Cash).
The most convenient, however, is Interac, an e-transfer service that's exclusive to Canadian players.
There are no fees on deposits or withdrawals (unless you request a check by mail, in which case you'll have to pay the courier for their time). They do limit the number of cashouts you can make per week, but that's not likely to be an issue for most players.
2. BetOnline – Best Canadian Online Poker Site for Tournaments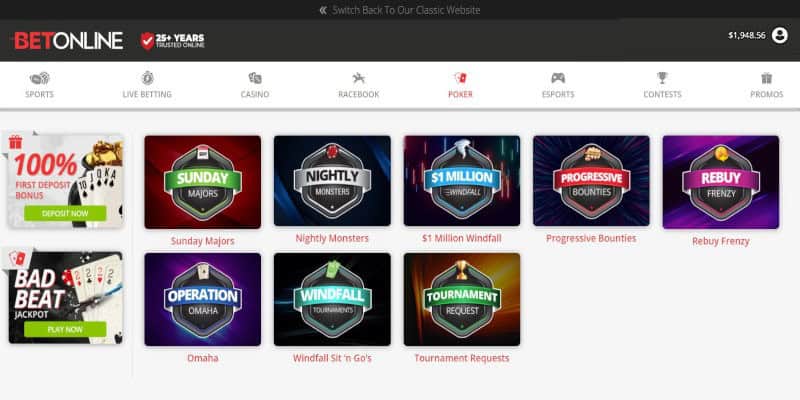 Pros
Daily MTTs for all bankrolls
Exciting features like straddles and all-in cashouts
Offers unorthodox games like "six-plus" hold 'em
$100k+ bad beat jackpot
Accepts 16 different cryptocurrencies
Cons
Fees on credit card deposits
$500 withdrawal minimum for bank transfers
Although BetOnline made its bones as a sportsbook, it's also developed into one of the top poker rooms in Canada in recent years.
They've built a loyal player base by being one of the most innovative casinos in the business, and you can find features here you won't see anywhere else. 
Poker Games Online & Tournaments –
4.9/5
Let's face it — you can only play so many hands of Hold 'em or Omaha before you need to shake things up a bit.
If that's the case, then head over to BetOnline, as they're great at offering players new features that make your favourite games more exciting.
One such example is the ability to straddle or double the big blind from the first position. This doubles the stakes and generates more action, turning a tight game into an all-in fest.
If you find yourself all-in and don't like your chances, you can also cash out according to your equity. It's a great way to limit variance without dulling the action.
You can even find exciting game variations like "Six Plus." In this game, you'll play with all the cards under six removed from the deck. This leads to big hands — and bigger pots. It's a great palate cleanser if you ever get bored with regular hold 'em.
The tournament offerings here are fantastic as well, and Sundays are almost as exciting here as they are at Bodog. There are multiple MTTs for you to enter, with the crown jewel being the one with the $150k prize pool.
Variety is also the name of the game with their tournaments, as they offer bounties, satellites, rebuys, and more. The Windfall SNGs here are even more lucrative, as they cap out at $150k in the tourneys with larger player pools.
Online Poker Bonuses –
4.8/5
If you enter the code POKER1000 when making your first deposit, you'll get a 100% match up to $1,000.
The bonus is released in increments of $5 whenever you earn $50 in rake. There's a 30-day time limit, as well as a $50 minimum deposit.
Beyond that, you'll find a bad beat jackpot that can reach as high as $100k, as well as an assortment of reload bonuses. If you earn enough player points, you can also be rewarded with tournament tickets and cash bonuses.
Banking Options & Payout Speed –
4.5/5
Fiat currency users are definitely second-class citizens compared to crypto enthusiasts at BetOnline.
Bitcoin depositors will enjoy a complete lack of transaction fees, lightning-fast withdrawals (usually in less than 24 hours), and even special bonuses.
Not only that, but the withdrawal minimum for most of the 16 accepted cryptocurrencies is a mere $20. If you use traditional methods like a wire transfer or check by courier, you'll have to round up at least $500 to get your money off the site.
All this makes it hard to give BetOnline a perfect score. If you're a crypto user, then everything is perfect. However, if you don't have a Bitcoin wallet yet, you might want to stick with Bodog.
3. Bitstarz – Top Poker Site in Canada for Casino-Style Poker Games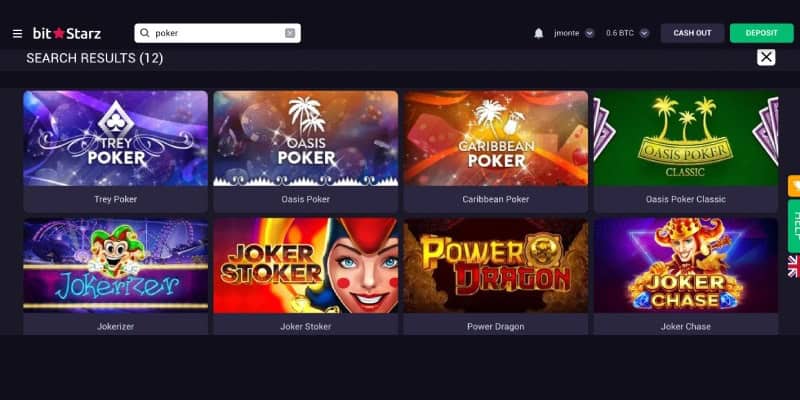 Pros
Table poker games perfect for beginners
Games available in demo mode
"Table Wars" tournaments feature cash prizes
VIP program includes high-end prizes like Teslas
Over 4,900 casino games
Cons
Only a few poker games to choose from
Deposit bonus lasts for 7 days
You won't find live poker at Bitstarz, but this crypto Canadian casino still earned a place on this list because of its fantastic table poker action.
The entire casino is top-notch, so if you're okay with not playing online poker against other people, this might actually be the top online gambling site for you.
Online Poker Games –
4.3/5
There isn't any live poker action to be had here, as instead, you'll have to play the table game versions of Texas Hold 'em. That's not all bad, though, as you'll never have to wait for a game, you don't have to worry about getting bluffed, and you can get a lot more hands in.
One game, "Texas Hold 'em Poker 3D," plays just like a real game of hold 'em. You'll bet before and after the flop, as well as on the turn and river – just like you would at a regular poker room. It even has an Old West theme, as your six-shooter rests right next to your chip stack.
Another title, "Oasis Poker," is more like a five-card draw, a game that's almost impossible to find at many online poker sites in Canada these days.
The site runs weekly Table Wars tournaments in which you can earn extra cash for doing well at these games, with prizes of up to $3,000 to the winners.
If you don't feel like playing online casino games at all, or you just want to practice a bit, all of their poker titles are available in demo mode, where you play poker with fake chips.
Online Poker Bonuses –
4.8/5
While the main poker bonus here is one of the best you'll find anywhere, it's far from the most straightforward.
You can get a 100% deposit match up to $2,000 or 5 BTC if you use crypto. However, it's not as simple as making a deposit and getting your bonus.
To get all that money, you'll need to make four deposits — the first one is a 100% match, the next two 50% match, and the final one another 100% match.
There's a $40 minimum deposit attached to each bonus, as well as a 40x wagering requirement that only applies to the bonus.
If you play online slots, you'll be happy to learn that this bonus also comes with 180 free spins, which are released over the first nine days after your deposit.
Play "Texas Hold 'em 3D" long enough, and you may even find yourself qualifying for Bitstarz's VIP program, the upper tiers of which hold some truly incredible prizes — like a brand-new Tesla Model Y.
Banking Options & Payout Speed –
4.9/5
You can take your pick from 10 different cryptocurrencies here, and Bitstarz definitely encourages you to use Bitcoin and the like rather than fiat currency.
However, that doesn't mean those options are off-limits to you, as you can use your debit or credit card to make a deposit.
Regardless of which method you use, you will enjoy fee-free transactions, and the site processes withdrawals as soon as they're requested.
4. Red Dog – Best Online Poker Site in Canada for Video Poker Games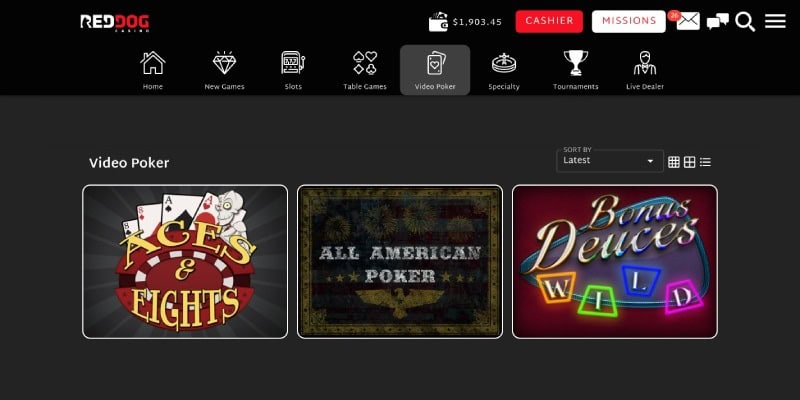 Pros: 
Multiple fun video poker variations
Lots of deposit bonus options
Ideal for casual players
All games are available to try for free
Cons:
High withdrawal minimum
No live poker tournaments
Video poker is almost as popular as regular poker, and there isn't a better spot to find it than Red Dog. It's also a great place for beginners to learn, as they have rules and tips for every variant on the game page.
Online Poker Games –
4.1/5
As with Bitstarz, there's no live poker here. They make up for it with over a dozen types of video poker, most of which are some form of five-card draw.
It would be nice if they mixed things up a bit, maybe with a hold 'em or stud variant, but the options they do have are quite fun — and have some truly impressive payouts.
Many also utilize some sort of wild card, which makes it easier to hit bigger hands. It's all reminiscent of the kind of poker usually played with friends, so you'll be right at home here.
In case you don't know what you're doing, each game has the rules laid out on the game page, as well as a few tips for playing. You can then use these tips in demo mode to get your confidence up before you start risking real money.
Online Poker Bonuses –
4.9/5
Red Dog has more bonuses than games. Not in the literal sense – but you get the point.
When you go to your cashier page, you'll see all of the available bonuses you can choose. There are a ton, and the only downside is that picking the best one can be a bit difficult.
One of the best we've seen is the $8,000 welcome bonus, which you can qualify for with a $10 minimum deposit and the code PATIO. It's a lot of money, but it doesn't necessarily blow their other bonuses out of the water, so feel free to pick a different one if you like.
Their bonuses are especially good if you're also looking to play the best online slots in Canada.
Banking Options & Payout Speed –
4.2/5
If you like paying with prepaid cards rather than crypto or credit cards, Red Dog is the place to do it. They have several options to choose from, like Neosurf, making it easy to deposit money.
They still accept the other two methods, of course, and you can play online poker with Bitcoin or Litecoin, to name a few.
However, keep in mind that you can't withdraw less than $150 per transaction. It also takes anywhere from 3 to 5 days to get your request processed and sent out.
5. GG Poker – Best Canadian Online Poker Site for Cash Games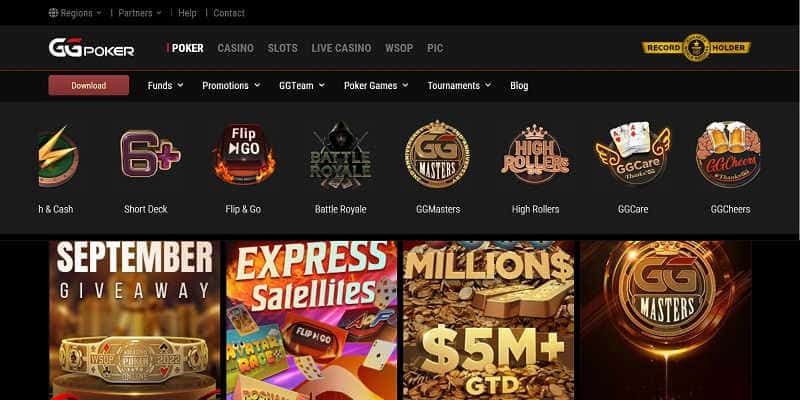 Pros:
24/7 action at the cash tables
Filled with fun game variations
Officially linked with WSOP
Unique features like "All-in or Fold"
Cons:
Interface is needlessly complicated
May not be ideal for risk-averse players
No one can ever accuse the games at GG Poker of not being exciting. The site has some of the wildest action you'll find anywhere, and you may feel like you've been transported back to the early-2000s Party Poker days.
If you like wild all-in fests, this is the poker room for you.
Online Poker Games & Tournaments –
4.8/5
Upon signing up, you'll be entered into a little mini-game featuring online pro Elky. The game is designed to teach you how to play, so it can be useful for newbies (and if you already know a straight from a flush, go ahead and skip it — you're not missing anything).
After you're done with that, you can begin exploring the rest of their poker offerings. The site isn't easy to navigate — it's cluttered with videos and social media content — but it's worth the effort to sit in one of their games.
One of the most exciting is "All-in or Fold," which is exactly what it sounds like. You're dealt a hand, and you only have two options: push your chips in the middle or muck. It's a crazy action game, even if it doesn't necessarily reward the most skilled players.
There are several other games like that to explore, so this is a great site if you get bored with the same-old same-old that you can find at most other Canadian poker sites.
Then again, purists might complain that it's not "real" poker, and you may feel out of place if you don't have a lot of gamble in you.
That's not to say that you can't get a normal game here — far from it. They have cash games ranging from the microstakes all the way to $5/$10, but be careful…there are some sharks at the higher limits.
Online Poker Bonuses –
4.3/5
On their face, the bonuses here aren't as enticing as you'll find at some of the other best Canadian real money online casinos on this list. However, they make up for it in other ways.
You can get a 100% match up to $600 when you make your first deposit — less than you'll find at Bodog or BetOnline, but the difference is that here you have 90 days to earn it (as opposed to 30 at the other two online casino sites).
A smaller bonus that you're likely to earn is probably better than a massive bonus that will be very difficult to claim, in our opinion.
The funds are released a dollar at a time, every time you spend $5 in rake.
If you don't like that bonus, you can take $100 in tournament tickets and cash game dollars. That's a smaller number, but if you know what you're doing, it could potentially pay off much more.
Banking Options & Payout Speed –
4.6/5
GG Poker's complement of e-wallets rivals that of Red Dog, and you can also fund your account with Visa, MasterCard, or Coinpayments.
The e-wallets on tap include LuxonPay, AstroPay, and MuchBetter.
The great news is that withdrawals at GG Poker clear very fast – sometimes even within 6 hours for debit cards.
How We Ranked the Best Canadian Poker Sites
When putting together this list, we settled on the following factors to determine which site was truly the best for Canadian poker players:
Poker Cash Games & Tournaments
A poker site is only as good as the game it offers, and to that end, we examined things like player traffic, the number of available games, tournament offerings, and more. Each poker site on this list will have plenty of games and traffic to keep the action going.
Poker Bonuses
You'll find promises of free cash at every online poker room, but some promos are full of hot air — and others are impossible to earn. We read the fine print to ensure that every bonus on this list lives up to its promise.
Payment Methods & Payout Speed
Being able to get your money on and off the site quickly and easily is extremely important, as is having a wide variety of banking options to do so.
The online poker sites that made the cut here all accept everything from credit cards to crypto, and they offer fast cashouts with little to no transaction fees.
What Makes Bodog Canada's Best Poker Site?
It's a fair question – one that we'll happily answer below.
Big Tournaments: Bodog features low-stakes and high-entry tournaments all week long, with its weekly $200k GTD MTT tournament taking the spotlight.
Fast Fold (Zone) Poker: If you like some fast-paced action, you can always join Bodog's unique Zone Poker games and get a new hand every time you fold without having to wait for the other players to complete their hands.
Big Welcome Bonus: With your first deposit at Bodog, you can claim a 100% bonus up to $1,000, which is then released in $5 increments every time you amass 150 Reward Points. This is one of the biggest poker bonuses you can get.
Guide to Playing Poker Online in Canada: FAQs
Are Online Poker Sites in Canada Legit?
Yes, online poker sites in Canada that are licensed, regulated, and run on a popular poker network are legit. With that being said, under-the-table providers looking to make a quick buck are always there, so we'd recommend sticking to poker rooms that have been thoroughly vetted by experts, like the poker sites on this list.
Can I Play Online Poker for Real Money in Canada?
Yes, you can play poker for real money at Canadian online poker sites. Every site offers cash games and tournaments for just about every budget, making them suitable for microstakes grinders and high rollers alike.
What Deposit Options Are Available at Canadian Poker Sites?
Most online poker sites in Canada accept a variety of deposit options, including debit cards, credit cards, e-wallets, and cryptocurrencies like Bitcoin. Our top-ranked site, Bodog, even accepts Interac, a Canadian e-transfer service.
Which Canadian Poker Site Offers Instant Cashouts?
GG Poker offers some of the fastest payouts among online poker sites in Canada, with most withdrawals cleared and sent out within 12 hours for verified players.
Comparing the Top 5 Online Poker Sites in Canada
Bodog: Here, you'll find regular action at any limit and incredible MTT tournaments, as well as a fantastic 100% deposit bonus offering up to $1,000 for new players.
BetOnline: This site's biggest event is the Sunday $150k guaranteed MTT, followed by many other tournaments like Bounty Hunters and Satellites. Enter code POKER1000 at sign up to get a 100% match up to $1,000 on your first deposit.
Bitstarz: You won't find better table poker action anywhere else, and most of Bitstarz's games do a good job of replicating the live poker experience. New users qualify for a 100% match up to $2,000 (125% match up to 5 BTC for crypto deposits).
Red Dog: If you prefer playing the house to other players, Red Dog has the best video poker action on the internet. Their welcome bonuses are amazing, too — the best one going up to $8,000 across 5 deposits.
GG Poker: This is the site with the craziest cash game action, so if you're looking to gamble, grab a rack and hold on to your hat. It also has features and games that are unique to the site, and you can choose between a 100% deposit match up to $600 or $100 in free play tickets.
How to Create an Account & Play Online Poker in Canada
If you've never made a poker account before, the process might seem intimidating. Fortunately, it's quite easy and only takes a few minutes.
We'll show you exactly what to do, using Bodog as an example.
Step One: Sign Up
Go to the Bodog website or another poker site from our list
Click the red "Join" button in the upper right-hand corner
Fill in your personal info when prompted
Step Two: Verify Your Account
After you register, you'll get an email to verify your account
Check your spam folder if the email doesn't arrive within 5 minutes
Click the link inside to verify your account
Step Three: Deposit & Play Poker Online
Choose your deposit method and amount
Don't forget to opt in for the bonus
That's it — time to play poker online!
Ready to Test Your Skills at the Best Online Poker Sites in Canada?
If you're looking for some serious poker action in Canada – you don't need to look any further than the sites we just reviewed.
Each one has round-the-clock action, and you can bluff or value bet to your heart's content.
The best of the bunch is Bodog, which has top-notch poker tournaments and cash games, but all of the Canadian gambling sites above are excellent in their own right. It all depends on what exactly you want out of a poker site.
The important thing is to know when to hold 'em, when to fold 'em – and when to shove 'em.
Thanks for reading, and remember to play online poker responsibly!
DISCLAIMER: The information on this site is for entertainment purposes only. We would like to emphasize that gambling is risky and should not be used to resolve financial difficulties. The saying "the house always wins" is worth keeping in mind. 
If you or someone you know has a gambling problem, we firmly advise you to call the Gamblers Anonymous at 1-626-960-3500 to speak with an expert about getting assistance and making gambling safer for you or your friends and loved ones. Remember that all gaming websites and instructions are intended for people aged 18 and above. Not valid in Ontario.
Some of the casino sites featured on our site may not be available in your location. Check your local regulations to see if internet gambling is permitted in your area.
Check out the following organizations for free gambling addiction resources: